Cyber Monday 2017

Cyber Monday is the biggest online shopping day of the year. This year it takes place on November 30.
We will be curating and featuring the very best Cyber Monday deals on this page once we get closer to the date, but until then we are providing a detailed look at the history of Cyber Monday and providing some background on its future.
Read it below:
Once upon a time, shoppers geared up for the morning after Thanksgiving and formed long lines to race into their favorite stores and nab amazing deals. This "Black Friday" phenomenon grew and grew and grew until … well, okay, it never stopped.
Somewhere along the way, though, "Cyber Monday" emerged to provide shoppers with an alternative. The phrase was coined 10 years ago by Shop.org, the digital division of the National Retail Federation, and represents the online version of Black Friday.
Instead of being forced to contend with unruly crowds at chaotic big box stores, shoppers can now score huge discounts from the comfort of their couch … or from their office chair while on the clock at work (shhh don't tell our boss).
Cyber Monday has actually had quite an interesting evolution. It's rare that catchphrases thrown into press releases ever come to actually mean anything, but when the NRF included "Cyber Monday" in a 2005 release, it was quickly adopted and led to the growth of one of the most important economic days in the U.S.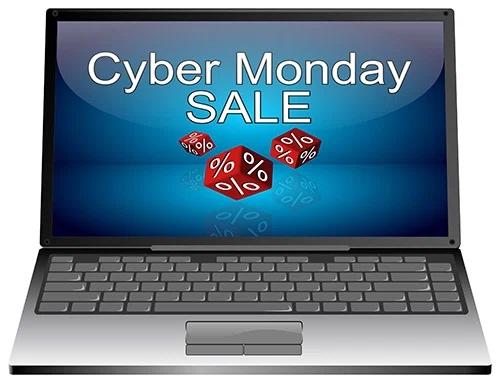 Early Cyber Monday shoppers took advantage of faster internet connections at work to do their online bargain hunting.
The timing was perfect. Americans had become more comfortable shopping online and ecommerce retailers like Amazon were innovating rapidly and reaching more customers than ever before.
Over its first five years, Cyber Monday exploded and by 2010 was the biggest online shopping day of the year. More recently, Cyber Monday has come to mean something a little different.
Many of the biggest stores such as Amazon and Walmart have turned to week-long events. Black Friday now often starts on Thanksgiving Day and Cyber Monday has become just a part of "Cyber Month" or "Cyber Week".
While the bargains are now more spread out, Cyber Monday remains a tremendously important shopping day, but that importance has shifted more to the store than to the customer.
Sure, customers can still find plenty of incredible deals on Cyber Monday, but the day's stature has risen exponentially for stores. If Thanksgiving week and Black Friday sales were soft, Cyber Monday provides retailers one last chance to make up the difference and meet their revenue goals.
Data from the past couple years shows the increasingly common approach to spread out Black Friday sales to the entire week, or sometimes even the entire month, has had negative effects on overall sales by diluting the deals and disorienting the consumer.
That said, Cyber Monday remains enormously popular largely because it provides people a way to ease back into work Monday morning after a four-day holiday weekend. That doesn't figure to change anytime soon.
Here is a list of a few ecommerce retailers that are known for providing top-notch Cyber Monday deals: